Lessons in Manchester After Lockdown 2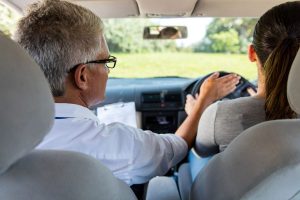 During the second lock learner driver have been keeping a close eye on  when driving tests and lessons could resume.  many learner drivers have had their driving tests cancelled from the 1st lockdown. Due to the backlog the DVSA were experiencing a huge demand, it was becoming very hard to book both, the practical driving  and theory tests. The DVSA have put in measures and are trying to clear the backlog. Driving tests are becoming easier to book depending on which area you wish to take your driving test.
As regional lockdowns tend be different and vary from region to region, this coupled with on and off local lockdowns, it can be very confusing. The only possible way to know for sure if the practical or theory driving tests or driving lessons are being conducted in your area is to check with local test centre, ask your local driving schools, and your instructor. You could also try booking a driving test on the DVSA website. Their website will have further information.
Driving lessons have resumed again in the tier 1, tier 2 and tier 3 regions on Wednesday 2 December 2020.
practical and theory Driving Tests have restarted in the tier 1 and 2 areas on Wednesday 2 December 2020, and in tier 3 areas on Thursday 3 December.
Theory Tests restarted on Wed 2nd December
Please note.
You can not travel out of England to take a driving test in Wales or Scotland. If you do, you will not be allowed to take a driving test.
Taking the practical driving test.
Driving tests are very different now from what it was like before Covid, and will probably be this way   for a very long time. This is what you can expect on the day of your test:
The DVSA have made social distancing mandatory during all tests,,and are limiting the number of people arriving at the centres at the same time, driving tests are being staggered.
Many test centres have closed their waiting rooms and toilets (you may be able to use the toilet if you are pregnant)
Driving examiners are required to clean and sanitise all touch points of their  side of the car and the dashboard.
You will be expected to turn up no more than 5 minutes before your test.
your driving instructor cannot accompany you on the test.
Driving examiners are required to wear PPE .
Taking the practical Driving Tests and Driving Lessons After Lockdown2
Driving test
You can still take Driving Lessons and practical Driving Tests in England including the Theory Test, however, driving Instructors and their pupils must wear face coverings during driving lessons and the practical test.
Driving tests are taking place in council areas in local COVID protection levels 0 to 3.
practical Driving tests will be suspended in council areas in local COVID protection level 4. You cannot travel out of a level 4 area to take your driving test somewhere else.
If you do not wear a face covering, you must have a good reason, some reasons you may be have could include:
you have a physical or mental illness, impairment or disability
wearing it would cause you severe distress
you and the person you're teaching live in the same household
Wearing glasses does not count as a good reason.
We have heard of pupils thinking wearing glasses makes them exempt from having to wear face coverings during lessons and driving test. This is not true.  Your driving test will not be allowed to take place.  You could be fined £60 if you do not wear a face covering during a driving lesson. This will be reduced to £30 if you pay within 28 days.